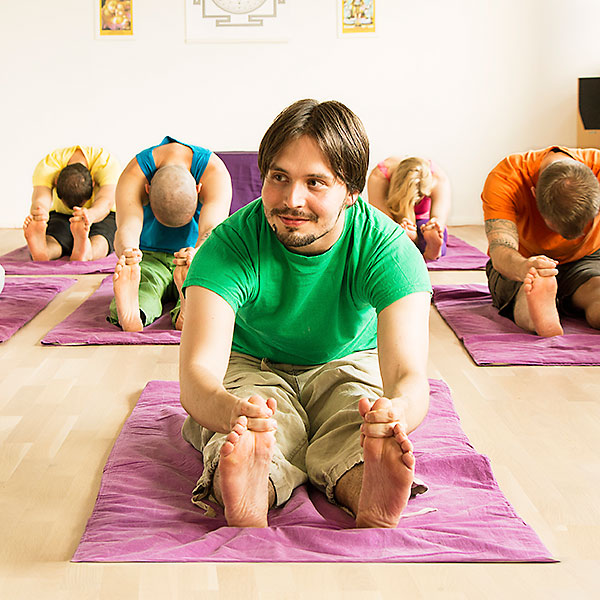 What do you learn in the Hatha Yoga course?
In this Hatha Yoga course you will learn the following: Physical yoga postures and relaxation techniques. The purpose of Hatha Yoga is to tune us in on specific energies of the universe, which allows us to amplify and refine specific aspects of our being, such as our energetic vitality, our capacity for love and clarity of mind. When we understand the science behind these postures, we discover that man, analogically seen, is like a radio that tunes in to different cosmic radio stations, and in this way receives a broad spectrum of beneficial cosmic energies.
What can you achieve through Hatha Yoga?
This course will, through simple effective yoga techniques, help you to express your higher potential in every aspect of life. You will improve your health and significantly reduce stress. You will increase mental focus and serenity, vitality and joy, creativity, willpower and self-confidence, openness to love, charisma and much more. Hatha Yoga is one of the best ways to cultivate the inner natural joy of life that is inherent in every human being, and is thus a highly effective medication for depression, confusion and sadness.
Practical information
We offer Hatha Yoga practice three days a week. Each weekday is dedicated to resonance with some specific energies, such as: vitality, inner fire, heart and soul, power of mind. Once a month we also offer couple yoga. In couple yoga we generate polarity (shiva-shakti, male-female) by doing yoga postures in couples. Note that you can participate in the couple yoga even if you arrive alone. "Couple" here does not refer only to intimate couples, but also to friends or colleagues in the class. The asanas do not involve any intimate touch.
Please observe that once a month we rotate the energetic focus of the specific weekdays (moving the theme of Vitality to Tuesdays, Fire to Thursdays, etc.). You will be informed about such changes on our webpage and through Facebook.
First Session for Free
You can join anytime without any previous experience and the first trial session is free. You can buy a 5 or 10 sessions card or just pay for one session.
Hatha Yoga for the Students of the School
We recommend Hatha Yoga also to all those participants in Esoteric Yoga and Intensive Tantra who want to benefit from doing practice together several times a week. Hatha Yoga sessions are free for students of these continous courses.
Sessions and themes in April
Mondays 17.30-19.00: MIND
Tuesdays 17.30-19.00: VITALITY
Thursdays 17.30-19.00: INNER FIRE
Sunday 7.5 12.00-14.00: COUPLE ASANAS
To those interested in more practices and in the esoteric roots of yoga, we recommend the course of Esoteric Yoga.
Advance registration is not necessary for the Hatha Yoga.
You can participate as often or seldom as you want.
We recommend that you wear relaxed clothes in the sessions.
Avoid having full meals during the last two hours before a session.
You don't need to have your own yoga mat, you can use the ones provided by our school.
Prices 1 time 5x 10x 15x 25x
Normal price 10 € 45 € 85 € 120 € 190 €
Student / unemplyed 7 € 30 € 55 € 80 € 120 €
The Hatha Yoga is included in the monthly fee of the continuous courses of Esoteric Yoga and Intensive Tantra.