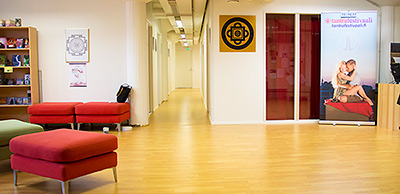 At the moment, Natha has permanent Yoga teaching in Helsinki, Tampere, Vantaa and Porvoo.
Phone:
Email:
jooga(at)natha.fi - enquiries about Yoga and the Yoga courses
tantra(at)natha.fi - enquiries about Tantra and the Tantra courses
Annual periods of vacation with no teaching:
23.12 - 6.1. (note the Winter Retreat)
From Midsummer to the end of August (note the Summer Retreat)
The last week in August
You can visit the Helsinki school on weekdays at 15.00-18.00, when the receptionist is present.
The library pof the school os open weekdays at 17-18.
A grey house approximately 200 meters to the south from the Swimming Hall of Mäkelänrinne. Entrance from the northen end, next to Valintatalo.
How to arrive to the facility of Nathan Helsinki on Mäkelänkatu 56:
Use trams or busses. Get off at the stops of Mäkelänrinne (stop 2425 when arriving from the centre of Helsinki and stop 2426 when arriving from the north). The distance from the stops to the school is about 10-30 meters:
Trams 1 and 7
Busses 51, 62, 64, 65, 66, 67, 72 and 516
The closest metro station is the Sörnäinen Metro Station, about 1,5 km from our school. You can walk from there or take the trams 1 and 7B or the busses 64, 66, 67, 72, 611, 623 and 633
The walking distance from Pasila train station is about 1,2 km:
Welcome!